Since its founding, Puerto Vallarta has been a destination full of history, traditions, art, and culture. As the city grew in size, so did its cultural offer with galleries dedicated to exhibiting the work of different local artists, as well as spaces to enjoy various art manifestations such as performances, shows and music.
Today, Puerto Vallarta is home to various national and international music, film and theater festivals. It is recognized for being the largest open-air museum in Mexico.
Murals in the streets of the city
There are many things to see in Puerto Vallarta, and taking a walk through its cobbled streets is a free activity that you can enjoy to your heart's content. Throughout downtown Puerto Vallarta, you'll find murals depicting children playing, tropical marine life, and famous Mexican characters.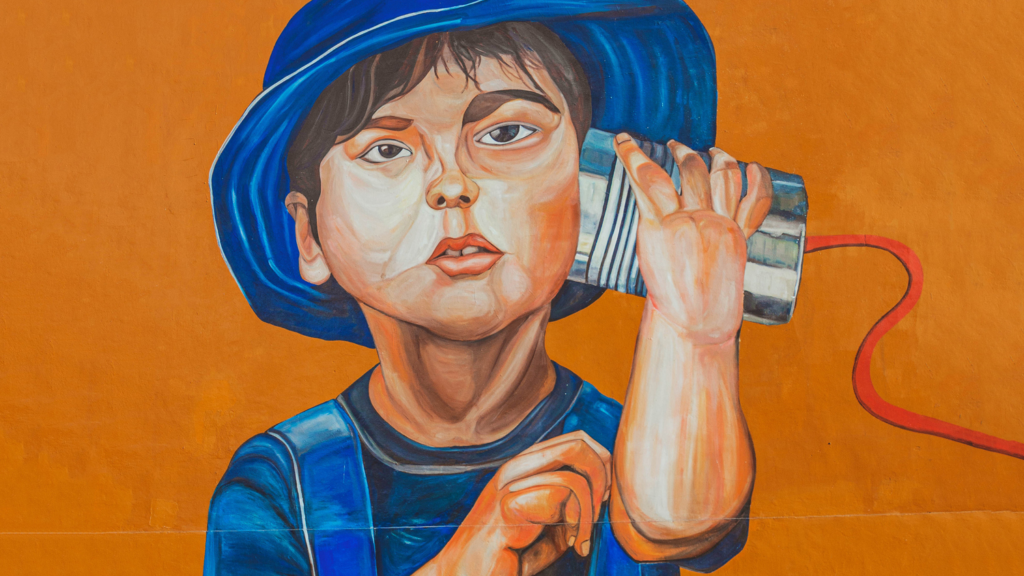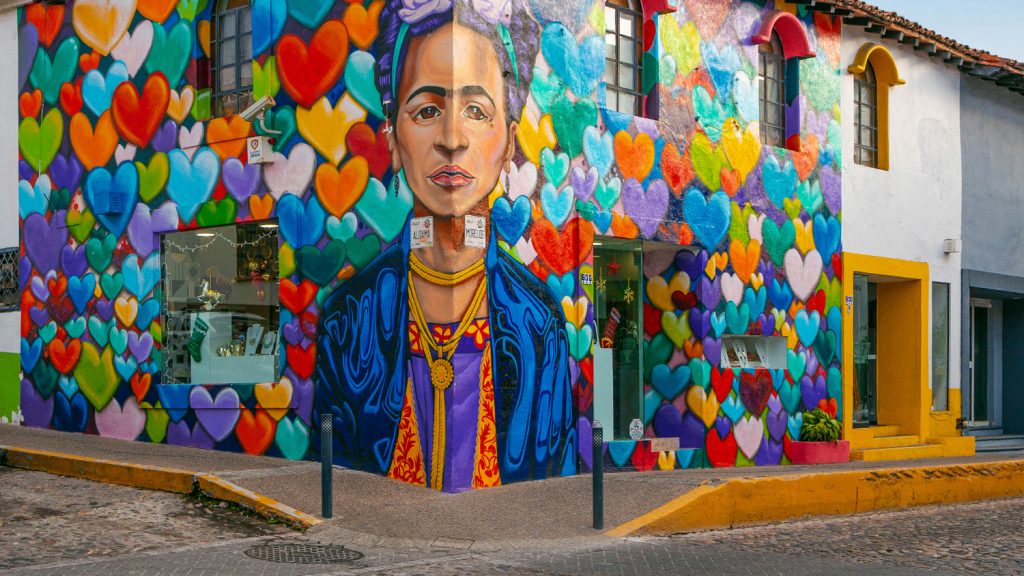 Huichol Art
The Huichol culture is an important element of Puerto Vallarta's charm thanks to its impressive art and ancient traditions, but have you ever wondered more about them?
Do not stop admiring the Huichol art and its fascinating forms of snakes, deer, eagles, jaguars, suns, fire and ears of corn represented with yarn as well as with multicolored beads.
Art Galeries
Puerto Vallarta is recognized for its extensive cultural and artistic heritage, and its promotional efforts through events and exhibitions place this city on the international stage. Different galleries in the historic center collaborate with prominent Mexican and foreign artists to create incredible collections of painting, ceramics, blown glass, and sculpture, among other expressions of the plastic arts.
El art walk contributes greatly to this work of making art available to visitors and residents.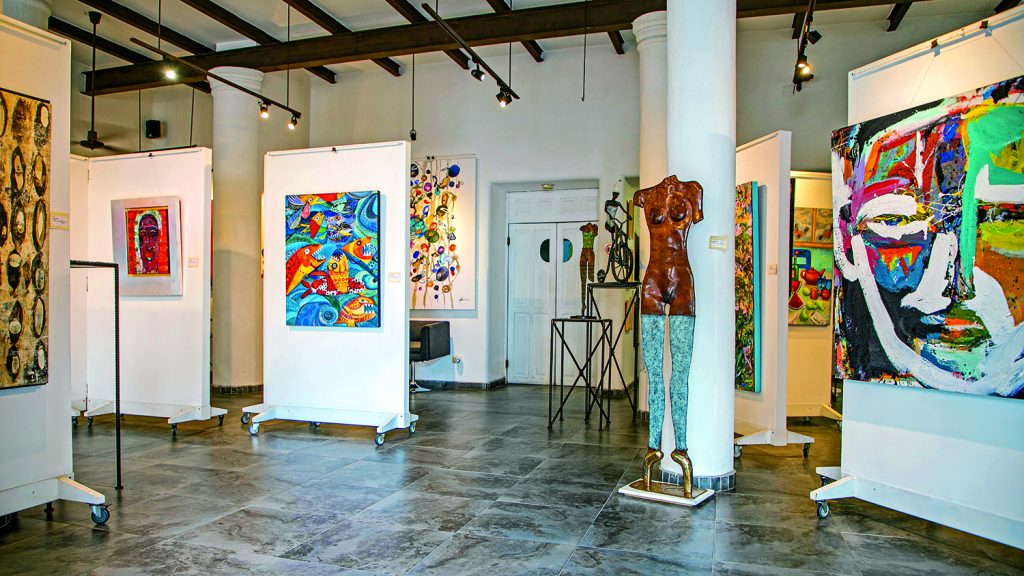 outdoor sculptures
This "Art Walk" begins at the northern end of the Malecón, in front of the Municipal Palace, with the amphitheater Los Arcos o Aquiles Serdán Theatre, a sculptural group placed shortly after his rescue in a hacienda in Guadalajara. These arches are an integral part of the promenade and a hallmark of the city.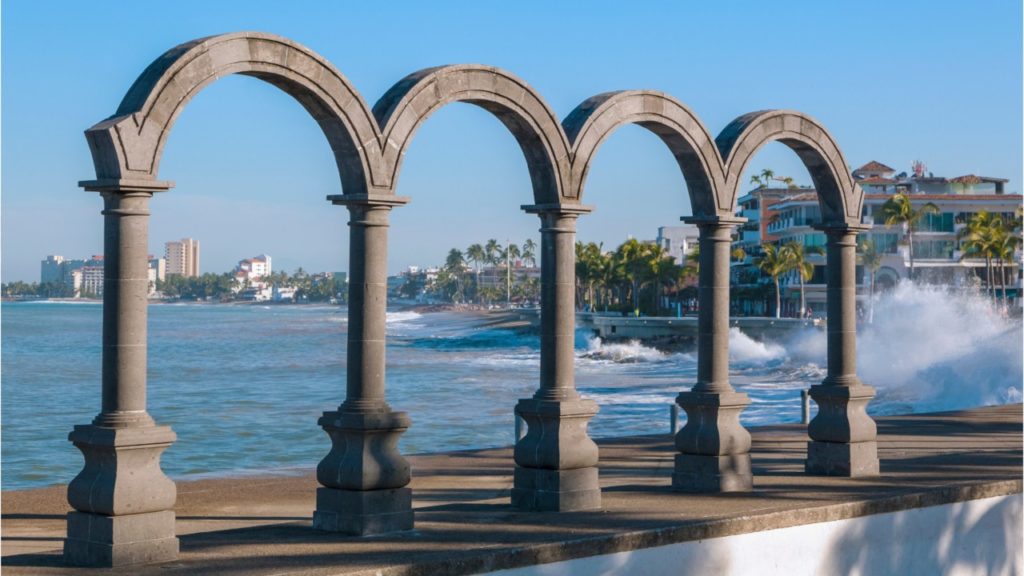 fountain of friendship
The work of sculptor James Bottoms, and donated in 1987 by Puerto Vallarta's sister city, Santa Barbara, California, it is a replica of the one found in that metropolis.
The fountain is made up of three jumping dolphins, whose design is based on a legend of the natives who inhabited the Californian coast, which narrates that in a shipwreck several of them were saved from drowning by turning into these marine animals.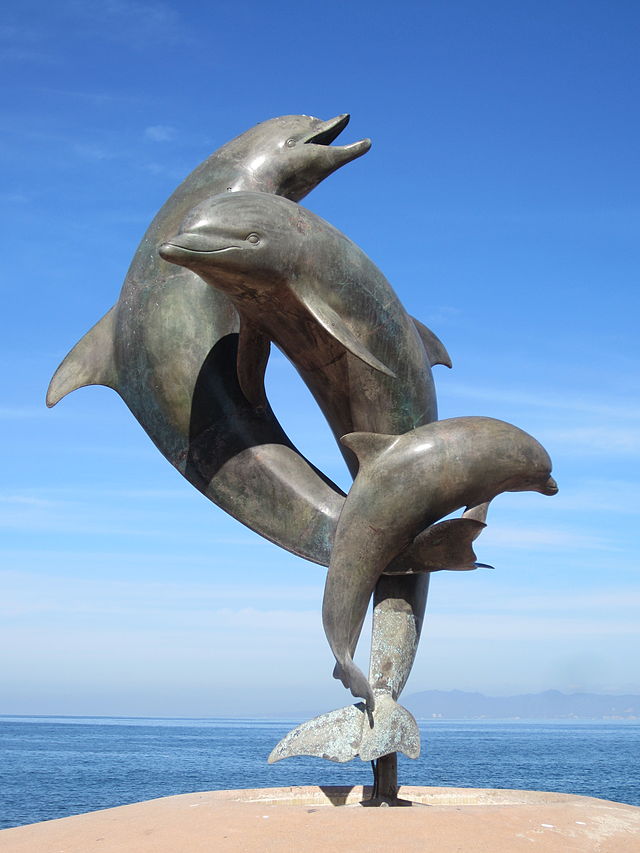 The Boy on the Sea Horse
This sculpture will look very familiar to you even if you have not had the opportunity to visit it in person, as it is the sculpture that appears in the Puerto Vallarta logo. Made by the artist Rafael Zamarripa "The boy on the horse of the sea" has fascinated visitors and locals since 1960 in Las Pilitas, located in Playa Los Muertos.
Did you know that a storm ripped it from its base, and it was then that a second sculpture was commissioned from the artist, which was placed in 1976 on the Malecón in Puerto Vallarta? Fortunately for the artistic legacy of this city, the first sculpture was found and returned to its original place, at the foot of the Pacific.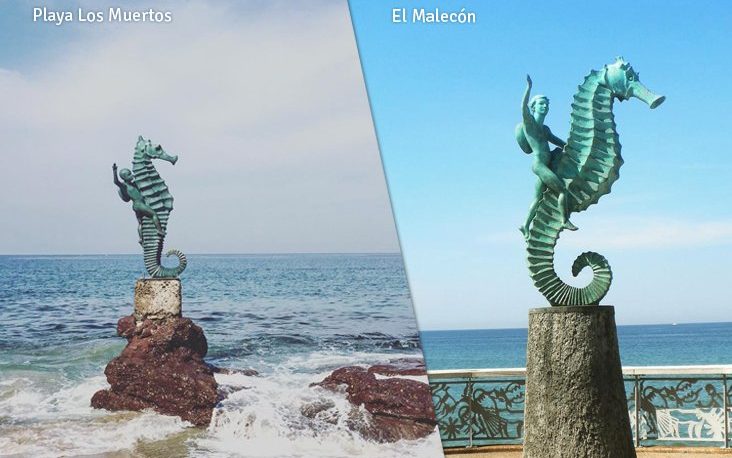 in search of reason
The artist Sergio Bustamante created this fascinating sculpture made up of strange figures climbing a staircase. Since its installation in 1999, it has caused great admiration among visitors who choose it to take an iconic photo of their visit to Puerto Vallarta.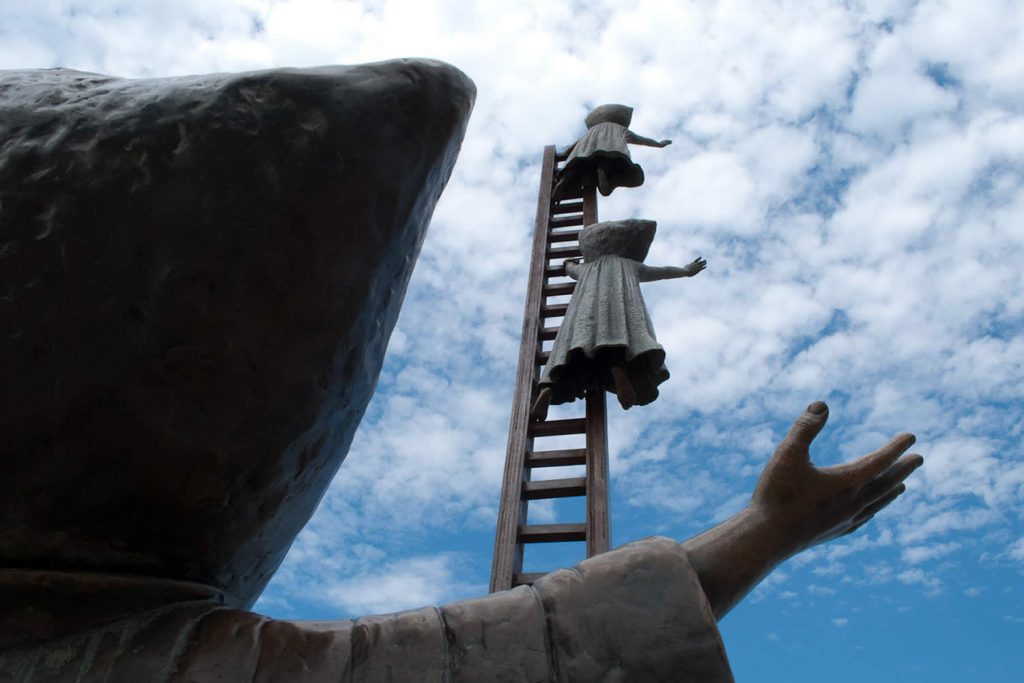 sea ​​roundabout
Another beautiful piece that makes up this open-air art gallery, the Malecón, is the set of 16 eclectic sculptures created by Alejandro Colunga, which resemble elongated human chairs with arms and legs, ending in stylized marine animals and fantastic figures from the imaginary of the sea. artist.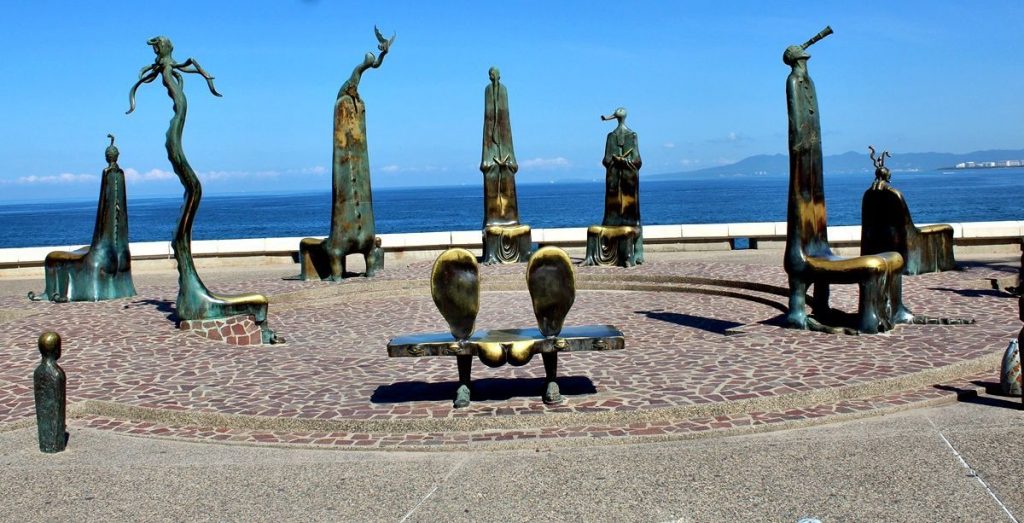 Sand Sculptures
With the passage of time, more works of art were added to the boardwalk, what was relevant were not only the works but also the material they were made of, sand. This new way of making art requires great skill and different techniques.
Even though they are made of sand, the sculptures of Arena de Puerto Vallarta can be appreciated throughout the year and the best of all is that they are being made new and different all the time, that is why hopefully you will be able to see one that you saw in a photo or better yet, one that only the lucky ones visiting Puerto Vallarta at that time will be able to appreciate and photograph.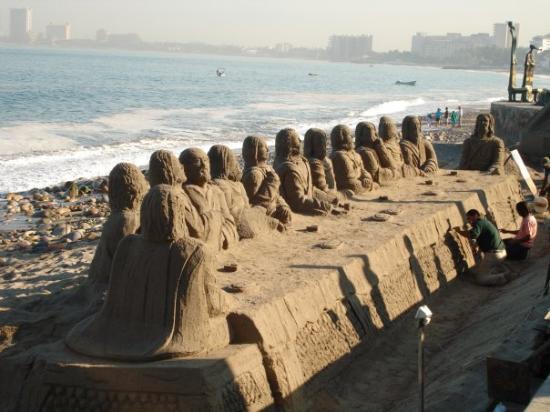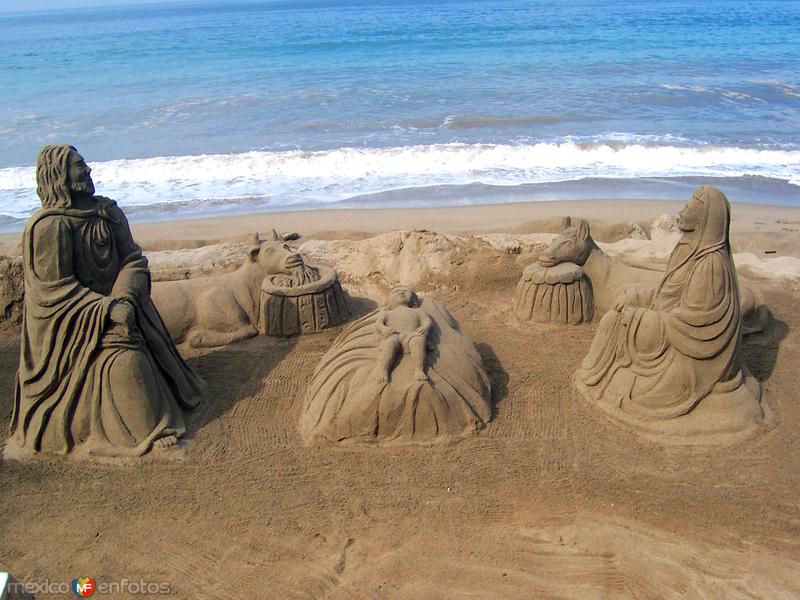 Other sculptures
Despite the fact that the Malecón is home to the largest and most striking set of sculptures in Vallarta, there are other sculptures that adorn the rest of the city.
For example, The Whale and its Calf, which was located near the Marina Vallarta in 2000 and is a tribute to this huge traveling species that visits these Pacific coasts every winter. According to the people of Vallarta, "it is the largest bronze sculpture in the world."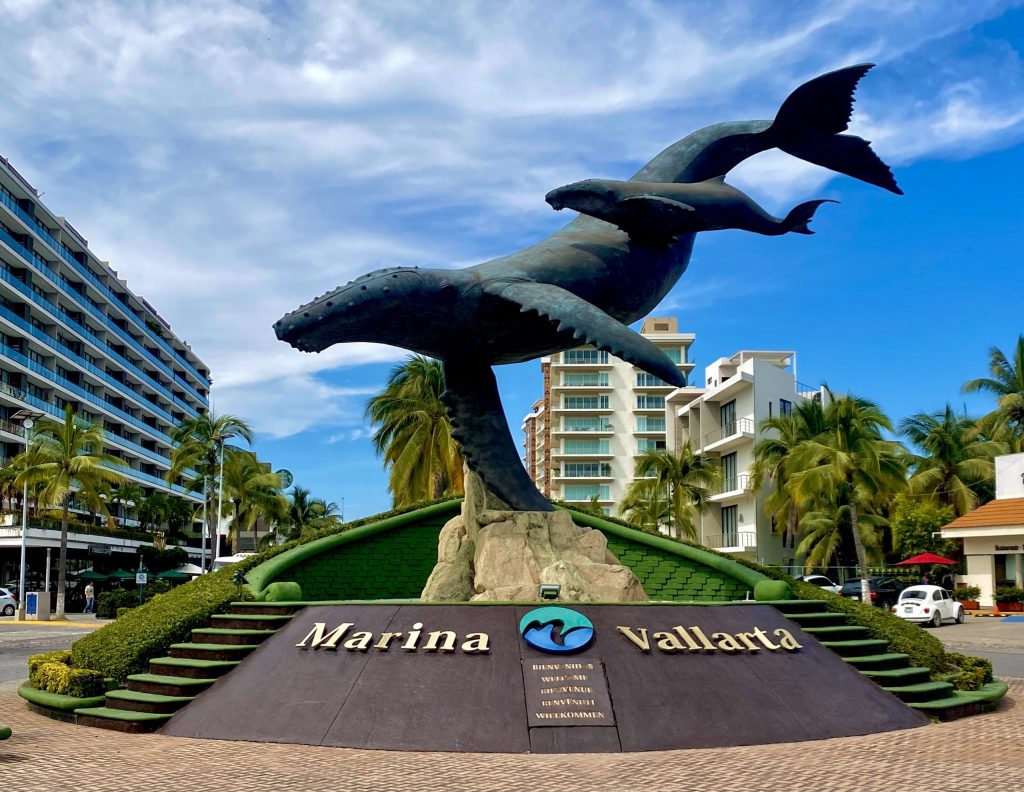 On your next visit to this exclusive beach destination, be sure to visit Old Vallarta. You will be delighted with its colonial charm, its typical gastronomy and with its extensive artistic exhibition that, together with its incomparable view of the sea, makes up one of the most beautiful images of the state of Jalisco.